Oils are (finally) becoming more widely accepted in addressing skin issues. In the recent past, all but those with dry skin tended to avoid oils in fear of breakouts and looking greasy. The natural beauty industry has put natural oils in skincare at the forefront of effective beauty and their various benefits are stealing the show.
One oil that definitely deserves a closer look is GLA oil. GLA (Gamma-Linolenic Acid) is an omega-6 fatty acid found in plant oils. While an overabundance of omega-6 fatty acids is not desirable in our diets this particular type of fatty acid is extremely good for skin. GLA is also a more rare type of omega-6, with much more of the omega-6 in oils usually being in the form of linoleic acid. Borage, black current seed, and evening primrose oils contain GLA, which means these oils have unique benefits for skin.
Evening primrose oil has about 13% GLA content and 72% linoleic acid, both of which are powerhouse fatty acids for skin health. Evening primrose oil has long been known as the darling of skincare products designed to make skin look younger, and improves skin smoothness and hydration when used topically and internally. Evening primrose oil benefits skin because it is gentle, making it a suitable choice for all skin types, and is a perfect match for sensitive and irritated skin that may be suffering from acne, eczema, and psoriasis.
Too often brands will shy away from using high percentages of this oil, though, because it is less shelf stable than many other oils since so much of it is polyunsaturated. When properly blended it adds valuable benefits that are worth the extra care. Just make sure you are getting a fresh, unrefined oil to get the most out of it.
How GLA Oil Improves the Appearance of Inflammation in Skin
GLA oil has been used for centuries as a homeopathic remedy, especially useful for skin conditions. Inflammation is at the root of the most common skin issues, like acne and irritation, and GLA benefits have been shown to alleviate the look and feel of inflammation in skin, lessening the appearance of redness and providing a calming sensation to upset skin.
One study showed that supplementation with 400 mg of GLA significantly decreased the appearance of inflammatory and non-inflammatory acne over a 10 week period.
Evening primrose oil delivers a double whammy when used by those with acne. This oil is not only rich in GLA, but is also exceptionally high in linoleic acid, a fatty acid type that skin with acne is usually deficient in. Linoleic acid helps to rebuild the skin's barrier function, which prevents moisture loss. Part of a healthy skin barrier is a healthy microbiome, and linoleic acid is also one of the best fatty acid fractions to help promote a beneficial skin microbiome. The helpful bacteria on your skin assist in prevention of overgrowth of detrimental bacteria like Cutibacterium acnes, the bacteria that contributes to breakouts. Since many acne skin treatments can cause dryness it is a good idea to proactively rebuild the skin barrier. So, using evening primrose on acneic skin is beneficial in more ways than one.
"In addition, due to its linoleic acid content, evening primrose oil has a beneficial moisturizing effect on the mucous membrane in acne patients treated with isotretinoin. This implies that skin supplementation with evening primrose oil improves the skin's water balance, which is weakened by treatment with isotretinoin."
Evening Primrose Oil Wrinkles and Skin Elasticity Benefits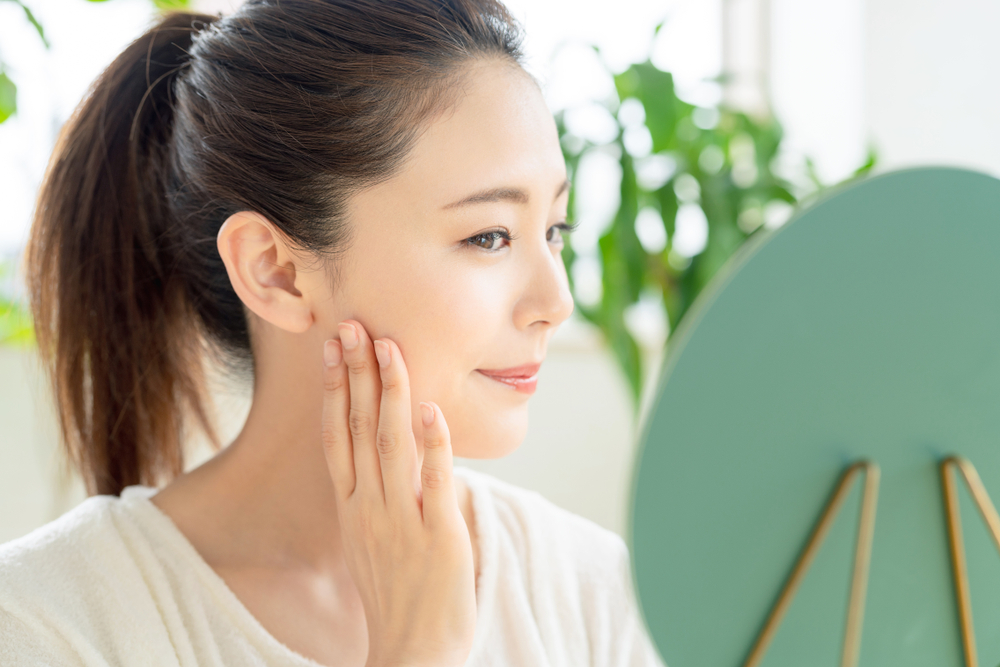 A leading cause in the appearance of premature aging in skin is UV damage, which leads to loss of elasticity, discoloration, and fine lines and wrinkles.
The GLA in evening primrose oil has been found to reduce the appearance of wrinkles when supplemented with a mixture of vitamin C, vitamin E, and pycnogenol, a natural antioxidant-rich chemical taken from natural sources, like pine bark, witch hazel bark, and grape seed.
Another bonus to the linoleic acid found in evening primrose is its ability to improve the feel of skin softness and elasticity.
"It has been shown that the presence of this acid prevents the skin from peeling and the loss of water through the epidermis, while at the same time improving skin softness and elasticity and regulating the process of epidermal keratinization."
GLA Benefits for Atopic Dermatitis / Eczema
If GLA is beginning to seem valuable or most skin issues, that's because it is. GLA may be just what your skin has been missing.
Supplementation of GLA in borage oil was found to improve the look and feel of atopic dermatitis. A borago oil oral supplementation in a group of 24 atopic dermatitis patients (eczema) improved their clinical conditions after 4-8 weeks, with significant reduction in inflammation, dryness, scaliness and itch and without side effects.
In a group of 24 patients with atopic dermatitis, supplementing with borage oil improved the appearance of skin after 4-8 weeks of use. This included significant reduction in the look and feel of inflammation, dryness, scaliness, and itch. And there were no apparent side effects.
How to Use GLA Oil in Your Routine
You can garner the benefits of GLA oil by both oral supplementation and topical use. As shown, borage oil appears to be beneficial for supplementation in a variety of skin issues.
Topical evening primrose oils benefits skin when used in skincare products like facial oil blends. This oil is a perfect option for those with hormonal skin conditions, like hormonal acne or dry skin due to drops in estrogen levels from hormonal aging. Even skin that is just dry and irritated will love this potent oil.
Since this oil has a short shelf life and is prone to oxidation make sure you purchase from a company that is selling fresh, unrefined evening primrose oil that has never been heated. You will likely not find this oil sold on the shelves of your local health food store because of its more sensitive nature, so online purchase direct from a manufacturer is the best way to obtain a quality oil.
Adding GLA oil to your lifestyle is a great way to keep your skin happy!
Disclaimer: The information contained on this site is general in nature and for informational purposes. It is not meant to substitute for the advice provided by your own physician or other medical professional. None of the statements on this site are a recommendation as to how to treat any particular disease or health-related condition. If you suspect you have a disease or health-related condition of any kind, you should contact your health care professional immediately. Please read all product packaging carefully and consult with a healthcare professional before starting any diet, exercise, supplementation or medication program. Cosmetic products have not been evaluated by the Food and Drug Administration and are not intended to diagnose, treat, cure, or prevent disease.