"Estimates state that 80-99% of what we see on our skin as adults is the result of exposure to daylight, which is referred to as photoaging. Manifestations of photoaging include an increase in wrinkle formation, a loss of tension and elasticity, degeneration of the vascular supply and skin thickness, hyperpigmentation and other skin discoloration, dilated capillaries (telangiectasis) and a reduction in the water-binding properties of the skin."
International Dermal Institute, Dr. Diana Howard
Exposure to UVA and UVB rays prompts a host of results to skin including cell damage and death, increases in inflammatory response, increases in skin's free radical content, and increased activity of collagenases which are enzymes that degrade collagen structures. The typical recommendation from dermatologists is to wear sunscreen, but chemical sunscreens are especially fraught with complications including allergic reactions, hormonal disruption, and the fact that they can actually increase the free radical production in sun exposed skin!
A wholly different approach to prevention of skin aging is to use nutrients like antioxidants to boost the natural damage resistance of the skin. That is where Pomella® trademarked whole pomegranate extract comes in. It is a unique pomegranate extract that came out of University studies. Researchers discovered a fraction of pomegranate that is more bioavailable than ellagic acid. Pomella® is instead standardized for the more effective punicalagins. It still contains ellagic acid as well as ellagitannins, flavonoids, and other trace polyphenols because the whole fruit is used and nothing is eliminated.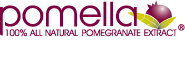 This water based extract has been proven very effective at regenerating the dermal layer of the skin by improving collagen synthesis and inhibition of matrix metalloproteinases, which are enzymes that degrade skin's supporting structures. (Aslam MN1, Lansky EP, Varani J., J Ethnopharmacol. 2006 Feb 20;103(3):311-8. Epub 2005 Oct 10.)
It has also been shown to be effective at preventing UV exposure related cell death by reducing inflammation and increasing DNA repair. (Pacheco-Palencia LA1, Noratto G, Hingorani L, Talcott ST, Mertens-Talcott SU, J Agric Food Chem. 2008 Sep 24;56(18):8434-41. doi: 10.1021/jf8005307. Epub 2008 Aug 22)
This clean, potent anti-aging ingredient has excellent healing and protective functions for skin especially when used on a regular basis.
The sooner you begin using this potent skin protector the better your long term results can be. Preserve the health of your skin with pomegranate.
POMELLA® Extract is covered under U.S. Patents 7638640, 7897791, 7919636 and E.P. 1734949 and POMELLA® is a registered Trademark of Verdure Sciences, Inc.
Disclaimer: The information contained on this site is general in nature and for informational purposes. It is not meant to substitute for the advice provided by your own physician or other medical professional. None of the statements on this site are a recommendation as to how to treat any particular disease or health-related condition. If you suspect you have a disease or health-related condition of any kind, you should contact your health care professional immediately. Please read all product packaging carefully and consult with a healthcare professional before starting any diet, exercise, supplementation or medication program. Cosmetic products have not been evaluated by the Food and Drug Administration and are not intended to diagnose, treat, cure, or prevent disease.