If you're tired of the same old Citronella smell for bug repellent we have good news! Many essential oils uses include properties that creepy crawlies don't like. While the EPA limits ingredients that manufacturers can use in products labeled as "bug repellents" there's nothing stopping you from experimenting with your essential oil collection from home.
This is one of the most empowering things about having herbal knowledge - you can take control of your exposure to additional chemicals! You'll know exactly what is in a recipe you blend and you can make adjustments as needed.
Dilution rates for DIY natural essential oil bug spray
Normally we recommend a general dilution rate of 1% to 2% for application to larger areas of skin. However, a bug repellent blend is going to be one case where you're going to want your finished product to be more potent.

Depending on your skin's sensitivity you will want to calculate for a finished dilution of 5% to 10%.
A 5% dilution rate would be about 30 drops of oil in 1 oz of oil or water.
A 10% dilution rate would be about 60 drops of oil in 1 oz of oil or water.
Should you make an essential oil bug spray or oil blend?
You can find uses for both an oil and water based blend. A water based natural bug spray may be good if you want to spritz repellent on clothing. Essential oils will not mix with the water so you'll need to shake well before spraying. Some sprayers don't last a long time once exposed to essential oils so that's something to consider.

An oil will be great for skin application as it will help adhere the essential oils to your skin, and really disperses the oils extremely well. You can use a lightweight base oil like jojoba or fractionated coconut oil to keep yourself from feeling too greasy after application.
If you have very young children you'll want to use a lighter dilution, and possibly just apply the product to their clothing. If you are an adult heading out on a deep woods trek then head for the stronger solution, but keep in mind that if you're applying it a lot then clothing can still be a great place to put it to avoid any possibility of sensitization over time.
A blend of Atlas Cedarwood, Egyptian Geranium, Lavender, and Patchouli will give you a gorgeous, earthy, slightly floral aroma. Cedarwood is of course famous for insect deterring properties as it has been used for chests and bug-proof construction for generations. Patchouli is also a plant that insects just don't like. These make a great base for the more floral oils, which also have very good anti-bug properties. If you're pregnant and trying to avoid Cedarwood then we've got an alternate blend for you too!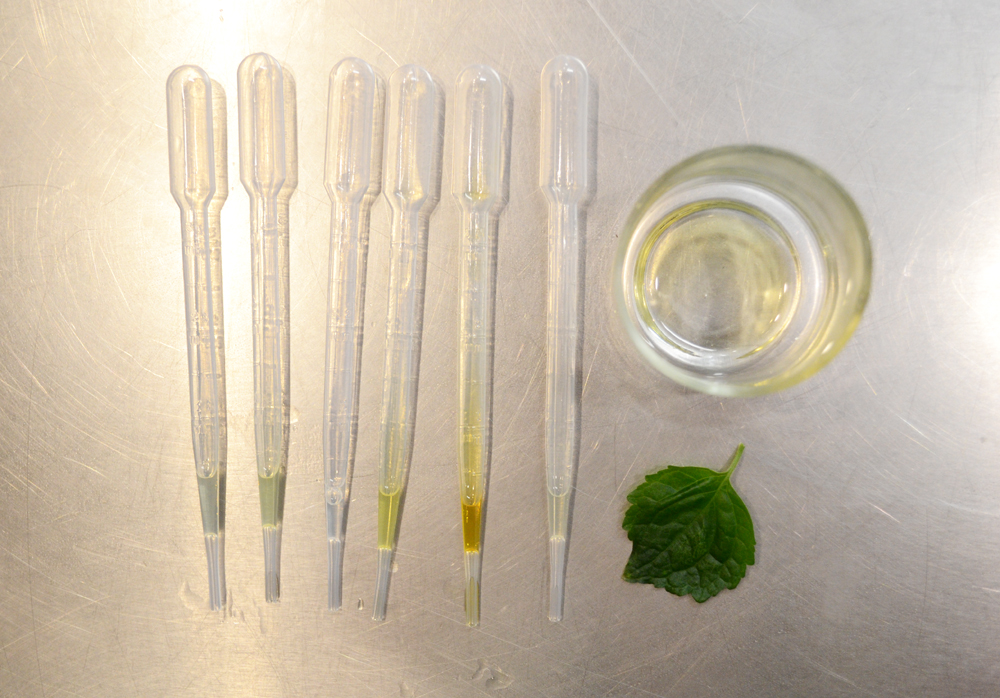 Essential oil bug repellent recipe
Both recipes are made at a 5% dilution rate for 1 oz of base. Double if you want a 10% dilution.
Bug Repellent Essential Oil Blend #1
5 drops Patchouli Stainless Steel essential oil
12 drops Atlas Cedarwood essential oil
5 drops Lavender Bulgarian Super essential oil
8 drops Egyptian Geranium essential oil
Bug Repellent Essential Oil Blend #2 (for pregnant women)
10 drops Patchouli Stainless Steel essential oil
10 drops Palmarosa essential oil
8 drops Egyptian Geranium essential oil
2 drops Litsea Cubeba essential oil
You can measure straight into your base, shake it up, and test it out. Blend #1 is gently floral, sweet, and mellow. Blend #2 is more zesty and lightly lemony (but not too much). The patchouli oil takes a back seat in these blends and just really anchors the recipe. If you want a Patchouli free option then just replace the Patchouli with additional Cedarwood or Frankincense instead in Blend #1.
These blends smell so good that you're probably going to want to keep some on hand just as a personal aroma anyway.
The studies we have read indicate that "efficacy" depends partly on the species of mosquito you are dealing with. For example, one study indicated that Litsea Cubeba can give up to 2 hours of protection, and Geranium oil can give up to 1.5 hours of protection against one species of mosquito. DEET can last up to 5-6 hours, so essential oils will generally wear off faster. ( source) If you're just going to a backyard barbecue and not into the jungle essential oils are a perfectly healthy and appropriate choice.
Have fun blending and let us know what you think when you try these! Stay tuned for more tips on essential oil uses from our aromatherapy store. You can also buy essential oils online direct from us for these recipes.
Disclaimer: The information contained on this site is general in nature and for informational purposes. It is not meant to substitute for the advice provided by your own physician or other medical professional. None of the statements on this site are a recommendation as to how to treat any particular disease or health-related condition. If you suspect you have a disease or health-related condition of any kind, you should contact your health care professional immediately. Please read all product packaging carefully and consult with a healthcare professional before starting any diet, exercise, supplementation or medication program. Cosmetic products have not been evaluated by the Food and Drug Administration and are not intended to diagnose, treat, cure, or prevent disease.