Want an instant pick-me-up? A perfect red lipstick evokes passion, love, strength, and courage. It's an easy way to flatter and brighten your face in mere seconds. While it can be daunting to choose the perfect red for your complexion, the key is knowing your skin tone and selecting the correct shade and intensity of red.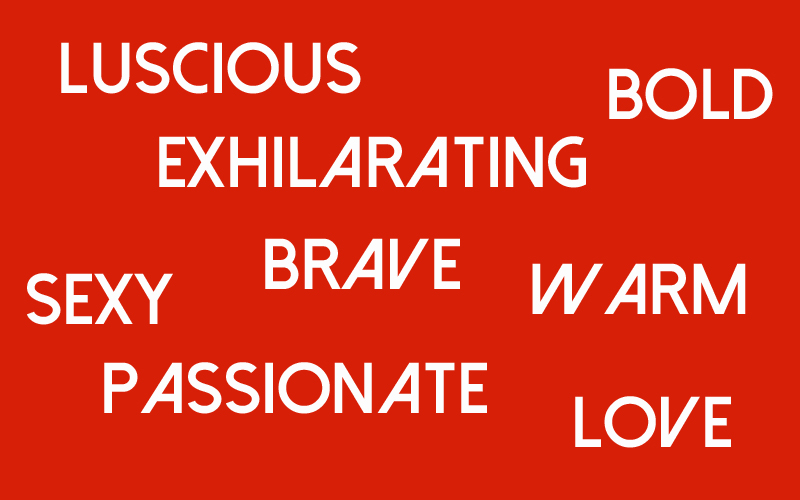 Red is the color of fire. It is an emotionally intense color with a very high visibility. Red is inherently exciting and naturally draws attention.
Red is super stimulating and can influence our behavior. It has powerful cultural meanings associated with luck, potency, wealth, and even a competitive nature. You can use this powerful color to your advantage by adding the energy of red lipstick to your life. Wear a red accent when you want to present yourself as dynamic and bold.
Depending on your personal ingredient rules Blissoma stocks some of the best natural red lipstick options from favorite natural makeup brands like Hynt Beauty, Axiology, Alima Pure, and RMS Beauty and some are even vegan!
Choosing the best natural red lipstick shade for your skin tone:
Skin comes in all unique colors and tones, and figuring out what complements your unique look takes a little experimentation. However, we have some red lipstick tips that should help.
If you have fair skin and have pink undertones in the skin, opting for a cooler blue based red would be the ideal choice. If you have a more golden or olive skin tone and warmer colors look best on you, try a red lipstick that has orange or coral undertones.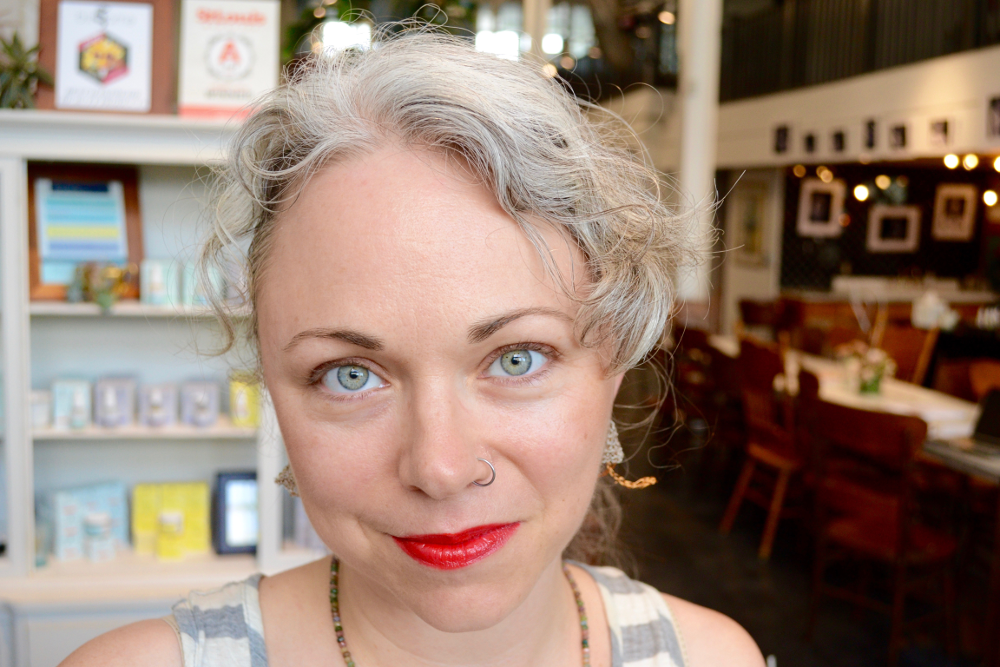 Not sure about lipstick undertones? We can help you determine your best colors. For example, Julie is fair with light eyes and pink undertones. She is wearing Beloved Lip2Cheek by RMS Beauty, a bright, true red with a hint of poppy to flatter all skin tones. When applied on cheeks it imparts a healthy, sheer, rosy glow. Use as a lip stain to lessen the intensity of the red.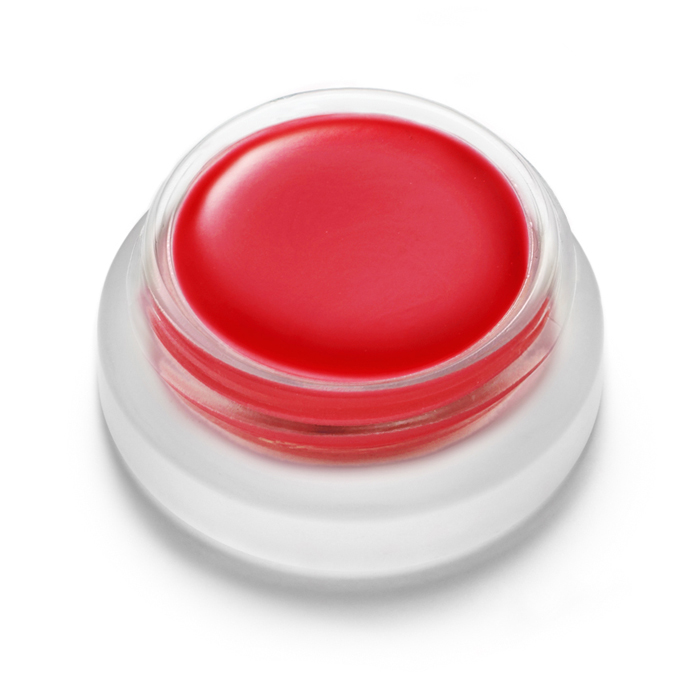 Natural Red Lipsticks That Give a True Red (With A Little Synthetic Color)
A true red lipstick can be challenging to come by in a 100% natural form because minerals generally come in red tones that head more towards pink or brown. Nontoxic beauty is a personal decision and so we have information to arm you to make a choice that will be perfect for you.
The pigments in the RMS Beauty Lip2Cheek are super concentrated, a little goes a long way. The ingredients in Beloved include organic coconut oil, castor seed oil, shea butter, jojoba and buriti. It is one of the few RMS products that uses a synthetic red colorant just to get a truer red color, so it also contains the following pigment [+/- Red 30 CI 73360, Red 6 Lake CI 15850]. If you do not have allergies to synthetic red dye this may be one spot in your routine where you might not mind occasionally splurging. The contact is minimal, and with how intense this color is you may not wear it every day.
Two more fantastic red lipstick choices that also indulge in a little use of Red FD+C dye are the Red Fervor Lipstick from Hynt Beauty and the Olivia red lipstick shade from Alima Pure.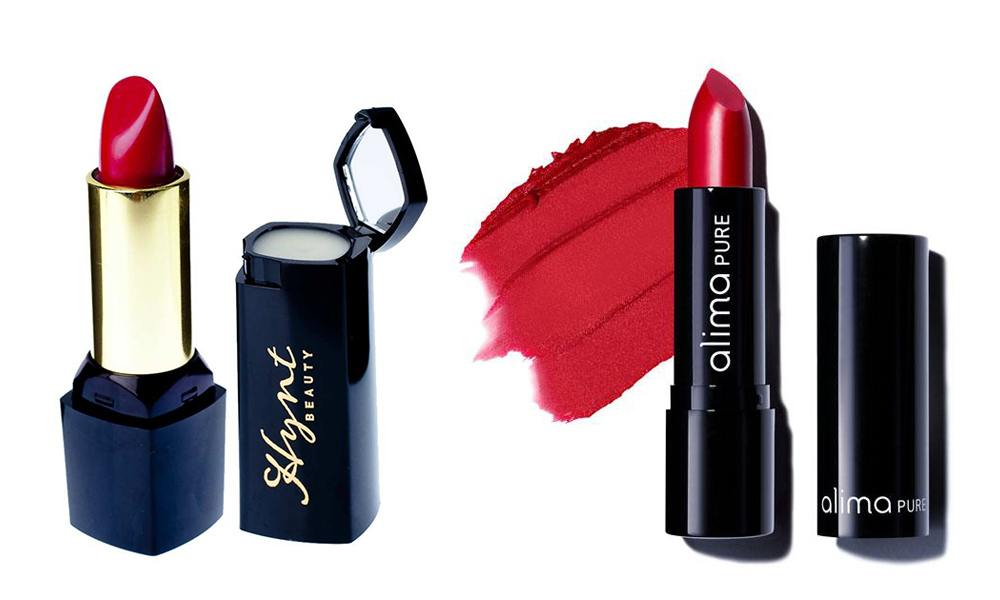 These two lipsticks have very different consistencies. The Hynt Beauty Aria lipstick in Red Fervor has purple undertones and a soft, rich, glossy consistency that moisturizes lips deeply. Alima Pure's natural red lipstick shade in Olivia has a more firm feel to it and goes on lips in a potent, flexible layer with no gloss. Choose between these depending on the finish you want. Both will give you a real bombshell look perfect for a night out, a special event, or just feeling extra gorgeous every day.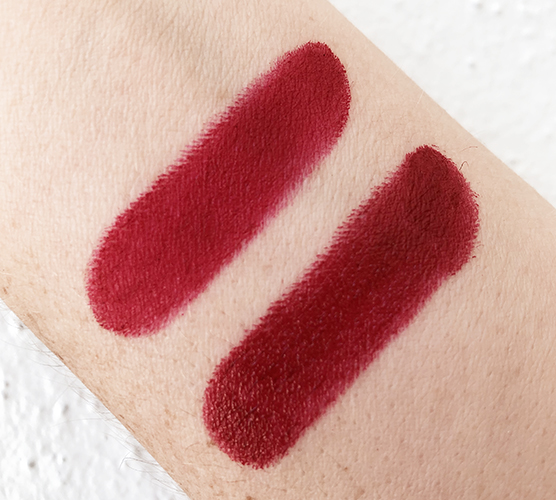 You can see the Alima Pure natural red lipstick in Olivia swatched above on top and Hynt Beauty's Red Fervor shade below it. The difference in the finish of the two lipsticks is evident in the photo as the Alima Pure lipstick gives a finish with no shine. You may want to consider blotting the Red Fervor to help set it since it is a bit more moist.
These lipsticks are perfect for a classic red lipstick look. Pair with a chic dress for a look that is sure to turn heads.
All Natural and Vegan Red Lipsticks Made With Nontoxic Mineral Color
If you prefer to avoid red dye completely we have options that are entirely mineral based that you will love! Hynt Beauty and Axiology both have variations on true reds that will make natural beauty purists happy while giving you the drama you desire.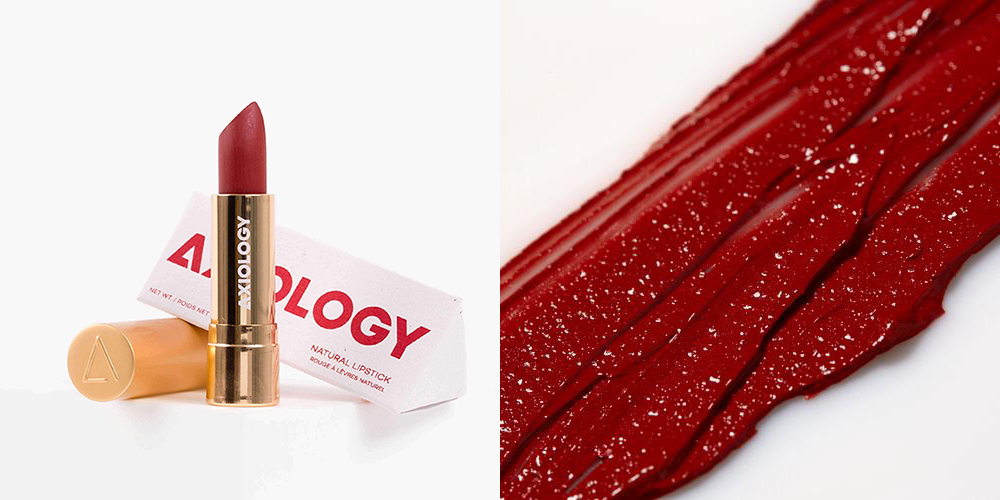 Axiology is one of our favorite lipstick brands for their seriously clean, nontoxic ingredients and fun range of colors. Every lipstick they make has only 100% natural mineral color in it so they are perfect for our purists. Strength is a natural vegan lipstick from Axiology's sheer balm collection in a bright cherry red color with a modern feel and warmth to it. This color adds energy to your appearance and is more contemporary than the true reds. Axiology's lipsticks are moisturizing and easy to wear as well. They go on slightly sheer so you get color and moisture without weight. Strength has just a hint of mineral shimmer so that it has a firey glow when worn. This shade gives a very flattering look when worn on medium skin tones.
The Pomegranate natural red lipstick shade from Hynt Beauty is an intense, creamy, rosy coral shade that is the favorite shade of Hynt's founder Meryl. This shade has a bit of blushing charm to it and feels a little less bombshell and a bit more ladylike. This shade is deeper and more bold and is fully opaque for a more classic look. It would wear perfectly with a neutral outfit in cream, black, tan, or brown to let the lip take center stage, or with a colorful floral dress in spring and summer. The undertones in the shade would also go well to contrast and set off clothing in green, blue, and teal. Pomegranate is strong enough to still stand out on deeper skin tones as well as creating big drama for fairer skin tones.
Below you can see swatches of Hynt Beauty's Pomegranate (top) and Axiology's Strength (bottom). Neither is a true red but both have lots of great color to offer to your natural makeup look.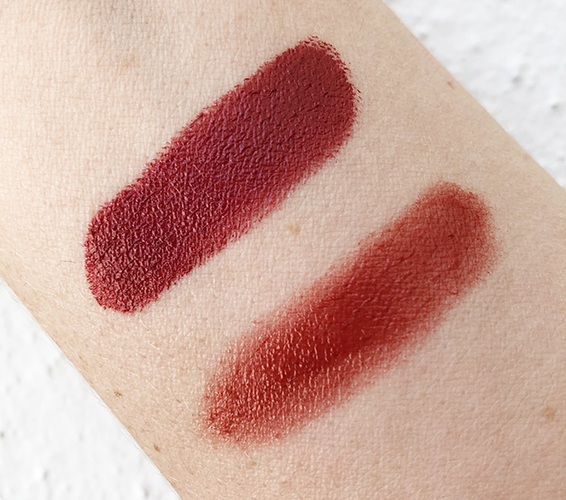 Now that you have selected your perfect red, here are some application tips to help this semi-tricky shade last throughout the day.
Tips for applying natural red lipstick:
1. First, wipe off any lip balm or moisture on your lips, as this will keep the lipstick from sticking.
2. If you notice dry skin that needs to be removed, consider using a lip scrub. You can make your own easily with a little raw sugar and oil, or brushing lips gently with a soft, dry toothbrush works for minor dryness.
3. Try using a lip lining pencil to line and fill in your lips to help prevent bleeding of the color. RMS Beauty now offers a lip liner called "Dressed Up Red" that can do the job for the bold, bombshell red shades. Or, if you want more of a stained look. use a fingertip to apply.
4. After you have applied a strong lip shade, dip a clean lip brush in a little concealer and gently trace the outside of your lips to ensure a clean, sharp line.
A few last thoughts on the power of red -
Red is the highest arc of the rainbow
Red is the first color you lose sight of at twilight
Red flowers are usually pollinated by birds, butterflies, bats and wind. Bees can see all bright colors, except red.
Let's see that smile!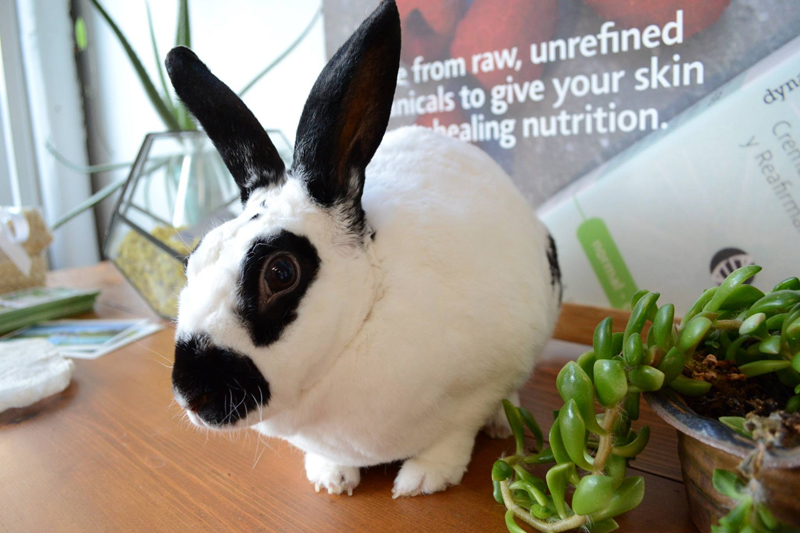 (For events - our makeup artists can handle getting you camera-ready and looking your absolute best for your big moment. Let us handle the whole thing while you sit and relax. We have all the tools and shades on hand to create the perfect look for you.)
All services are $45. With the exception of event makeup application your $45 deposit becomes a credit towards your purchase of products in our store. Deposits are required to hold your appointment, and guarantee you devoted, one-on-one time with our staff. Call 314-771-5006 to set your appointment today.