Celebrate who you are in your deepest heart. Love yourself and the world will love you. Amy Leigh Mercree
We've worked for months on renovating our new space - the *only* space in St. Louis devoted to high performance, authentically natural, plant-strong, organic, and cruelty-free beauty products. Our talented staff has spent months testing the best brands in natural makeup, haircare, and nontoxic nail polish. We are NOW OPEN weekdays from 9 AM to 5 PM and Saturdays from 10 AM to 4 PM to serve you in an intimate, luxurious, bohemian loft style setting. We specialize in education and giving you a great service experience in learning about how to make your beauty routine more nontoxic, eco-friendly, and effective.
You may be an occasional wearer of lip gloss and nothing more, or a polished professional who likes her look "just so" or perhaps a funky fan of electric blue eyeshadow.... Whatever your aesthetics we've got options for you that meet or exceed performance of conventional cosmetics. The best news for you is that it's all healthy for your skin (so your foundation won't ruin all the good things you're doing with your facial care routine) and guilt free for your health and even sustainable for the planet.
Even better yet, you'll be supporting independent businesses that are largely woman-owned and who are doing the right thing for clients, the environment, and their staff. Ethics and sustainability are gorgeous! Supporting conscious businesses lets your inner beauty shine.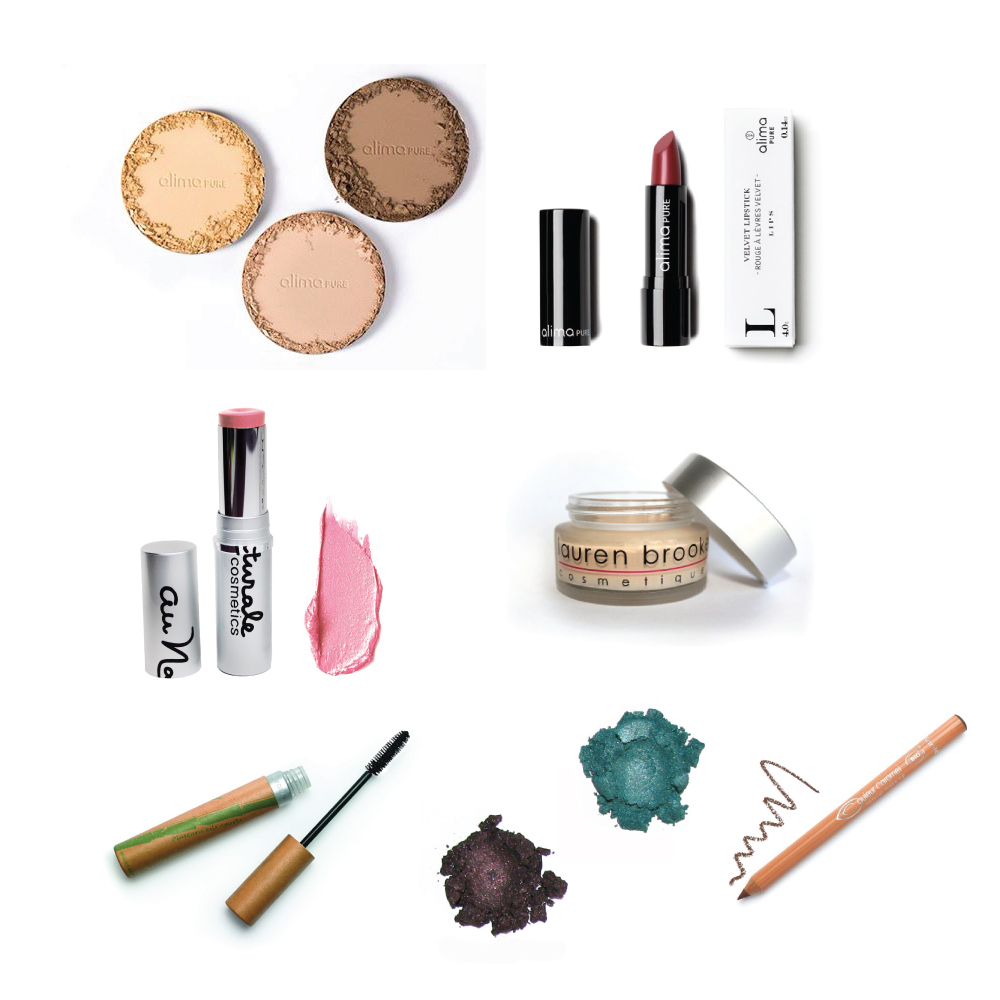 Our color cosmetic product offerings include:
Loose mineral, pressed powder, and cream foundations in shades from super pale to deep chocolatey brown
Powdered mineral and creamy balm concealer in shades for every skin tone
Loose mineral, pressed, and creamy stick blushes in 19 different shades in matte and shimmer choices
Color correcting, contour, bronzing, and finishing powders, and highlighters in powder and creamy choices
Over 100 colors of eyeshadow in shimmer, pearly, and matte textures and in loose mineral, pressed, and cream forms
Eyeliners in powder, liquid, and pencil forms in over 10 color choices
Eyebrow pencils (and we're also testing brow powders!)
Mascara in 4 colors that won't make sensitive eyes water
Lip pencils in 6 colors
Sophisticated, lush and lead-free lipsticks in 8 shades
Shiny lip glosses in 8 colors
Cruelty-free makeup brushes to complete your compassionate makeup application
And we've got truly natural haircare!
It's can be a trick finding hair products that offer performance *and* a strictly natural ingredients list. We've found brands that go all the way to thoroughly cleanse, condition, and style all with ingredients that won't harm the health of humans or the environment.
Shampoos and conditioners for dry and oily hair types
Styling creams and pastes that will hold your style or control curls
Light and firm hold hair gels
Botanical hairspray for that finishing touch on your style creations
For finishing touches we're also stocking nontoxic, 5-free nail polish in 25 fun colors along with top and base coats, soy-based polish remover, and other mani/pedi necessaries.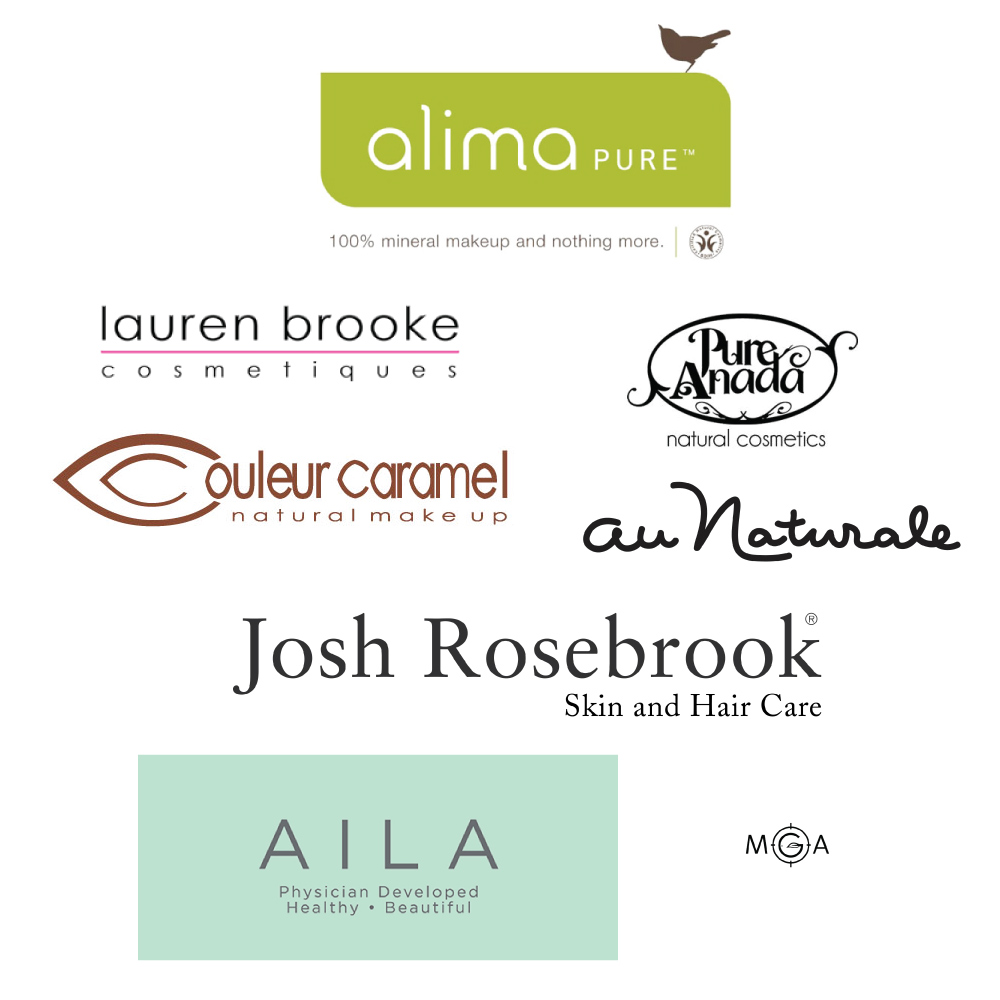 Natural, cruelty-free, indie, eco-friendly and healthy beauty brands we'll be stocking (prices ranging from $8 to $35 per item):
Alima Pure - uniquely milled, premium mineral based makeup and brushes
Lauren Brooke Cosmetiques - affordable, beautiful, natural makeup that performs like a luxury line
Au Naturale - cream concealers, blushes and lip glosses made regionally in Chicago, IL with organic ingredients
Pure Anada - gorgeous eyeshadows in dozens of shades
Couleur Caramel - playful, decorative Ecocert certified eyeliners and mascaras
Max Green Alchemy - affordable, totally natural, 100% vegan haircare
Josh Rosebrook - luxurious and holistic herbal haircare
AILA Cosmetics - Physician Formulated, 5-free, nontoxic nail polish
We tested products from many lines for months to curate our ideal opening selections. Our confidence is rock-solid that these choices will offer something to delight all our clients.
And just in case the cosmetic aisle makes you panic because you wonder if most of these things are even necessary, or talking about warm vs cool tones in skin starts to sound like the "wa wa wa" adult voice in Peanuts it's no big deal - that's what we're here for. Our store is a judgement free zone and a place to learn. We can experiment and guide you (even without talking about tones) to the right choice. Even if you want to look like you're basically not wearing any makeup at all (just gorgeous all by your lonesome - you woke up this way!) we can help you make that happen.
Our joy stems from helping you develop confidence in revealing yourself, not in covering up. Even makeup can be authentic if it really reflects your style. Color can be a lot of fun. Maybe there's a fresh version of you in there just waiting to come out and play?
You can get all our amazing natural makeup, haircare, and nail color brands in store every day now.
Store Hours:
Monday through Friday, 9 AM to 5 PM
Saturday 10 AM to 4 PM
Location:
2730 LaSalle Street, St. Louis, MO 63104.
Our makeup pros are on hand to give you a makeup consultation. Calling ahead to 314-771-5006 for an appointment is recommended if you would like to reserve their time. Consultations run 30 to 45 minutes and include one-on-one attention to your unique skin type, coloration, allergy concerns, and style. Our staff will help you shade-match and test foundations and show you the right techniques to apply everything we carry so you can create the look you want.
Please share the word that we're here with all your favorite plant-loving, animal-hugging, sensitive-skinned, conscious-shopping, local-economy-championing, organic lifestyle enthusiasts. We've created a place they'll love unlike any other in St. Louis and they're going to be excited!